Quick Facts
Famous as
Singer-Songwriter
Nationality
Zimbabwean
Birth Date
6th February, 1993 AD
Age
24 Years
Height
1.65 m
Born in
Lexington, Kentucky, United States
father
Michael Kachingwe
mother
Aimie Kachingwe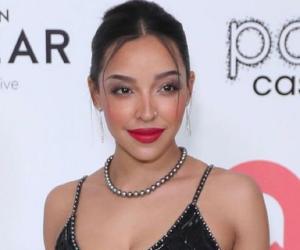 Born in Lexington, Kentucky, she moved to Los Angeles when she was 8 years old. Her father is a native of Zimbabwe and she and her two younger brothers have Irish, Norwegian, and Danish roots.
Tinashe Kachingwe is a popular American singer and songwriter best known for her debut single '2 On'. Member of the former band 'The Stunners', music runs in the veins of this amazingly talented performer, who embarked on a musical career when she was just 14. Interestingly, not many know that Tinashe first started her career in the entertainment world as a model and actor. She was just three when she started modelling and acting. After a couple of projects, Tinashe turned to her passion for music. She was a part of the group 'The Stunners' that released EPs and singles. However, when the band disbanded, Tinashe embarked on a solo career. She released three critically acclaimed mixtapes, 'In Case We Die', 'Reverie' and 'Black Water'. However, it was her debut single '2 On' that brought Kachingwe into instant limelight. Critics applauded her single which paved the way for the release of her debut album which was also well-received.
Childhood & Early Life
Tinashe Kachingwe was born on February 6, 1993 in Lexington, Kentucky to college professors Michael and Aimie Kachingwe. While her father taught acting, her mother was a teacher of physical therapy at California State University. She is the eldest sibling and has two younger brothers, Thulani and Kudzai. She is of mixed descent.

At the age of eight, Tinashe along with her family moved to Los Angeles, California. There she attended Crescenta Valley High School for a year before finishing early to pursue a career in music full-time.

Musically inclined as a child, Tinashe formally started studying ballet, tap, and jazz dancing when she was four years of age. Additionally, she competed in various competitions until she was 18.
Career
In 2007, Tinashe embarked on her career. She found herself a place in the girl band, 'The Stunners' alongside Marisol Esparza, Allie Gonino, Hayley Kiyoko, and Kelsey Sanders. The band signed a record deal with Columbia Records. Their recorded single initially made for 'iCarly' soundtrack was never released.

In 2009, 'The Stunners' left Columbia Records and instead signed a production deal with Lionsgate Entertainment. Immediately thereafter, in March, the group released a single 'Bubblegum' on iTunes. Later in October, they released a 5-song EP influenced by artists such as Madonna, Gwen Stefani, and Rihanna.

The group's first-ever music video for their promo single, 'We Got It' was released in 2010. Right after its release, they performed the song on The Today Show and The Wendy Williams Show. Later in the year, they signed a deal with Universal Republic Records and came up with the single 'Dancin' Around the Truth'. 'The Stunners' ended 2010 on a happy note with their fourth music video of the song 'Spin the Bottle' premiering on December 31st.

In 2011, The Stunners officially disbanded. Following this, Tinashe embarked on a solo career. Her first ever solo televised performance was for the Dodgers-Cubs game wherein she sang 'God Bless America'.

Tinashe's first solo music video released in June 2011. It was a cover of Lil Wayne's single 'How to Love'. The song was later released as a free digital download via Tinashe's official website. Next, Tinashe was featured on the dance single 'Artificial People' by OFM. She soon followed it up with the music video for her first original solo song 'Can't Say No'.

Her debut solo mixtape 'In Case We Die' was released in February 2012. The mixtape had four singles including 'Chainless', 'My High', 'This Feeling' and 'Boss'. The mixtape earned rave reviews and was received positively by the blogosphere.

In June 2012, Tinashe signed a deal with RCA Records. Following this, her second mixtape 'Reverie' was released through her official website. It contained three singles, 'Stargazing', 'Ecstasy' and 'Who Am I Working For?' 'Reverie' was positively received by the public.

Following the success of her first two ventures, Tinashe came up with her third mixtape 'Black Water'. Comprising of thirteen tracks, the mixtape did exceedingly well and was declared a hit. The single 'Vulnerable' featuring rapper Travis Scott was declared a 'Must-Hear Pop Song of the Week' by MTV's Buzzworthy.

In 2014, she started working on her debut studio album 'Aquarius'. On January 13, she released her first single from her debut album, '2 On'. The song featured American rapper Schoolboy Q and was produced by DJ Mustard. The song entered the US Billboard Hot 100 chart at number 89, and has since peaked at number 24.

On June 29, 2014, she made her national television debut performing her single '2 On' at the BET Awards pre-show. She soon followed it up with her second single 'Pretend' featuring ASAP Rocky. Upon the release of her debut album 'Aquarius', it sold more than 18,000 copies in its first week itself, peaking at number 17 on Billboard 200. 'All Hands on Deck' was the last single of the album that shot to fame for its high octane choreography and visuals.

On March 16, 2015, she released a seven song mixtape 'Amethyst'. Meanwhile, during this time, she came up with several self-directed music videos from her album 'Aquarius' including 'Aquarius', 'Bated Breath', 'Cold Sweat', and 'Bet/Feels Like Vegas'.

In September 2015, Tinashe released a teaser for her second studio album 'Joyride' on YouTube. She followed it up with a promotional single 'Party Favors' featuring rapper Young Thug. It was on October 2, that Tinashe finally released the much-anticipated first single, 'Player', featuring Chris Brown.

In January 2016, the singer announced the Joyride World Tour in support of her album 'Joyride'. However, the tour was cancelled as Tinashe wanted to make new songs for the album. Subsequently, she came up with yet another promotional single, 'Ride of Your Life'.

Tinashe released the lead single for Joyride, 'Superlove'. Its music video debuted in August 2016 on MTV's Snapchat to rave reviews. In just a day and a half, the video had been viewed by one million people. The stupendous success of the single led her to come up with the second one 'Company'.

In November 2016, she came up with a digital album and short film titled 'Nightride'. She even gave a glimpse of her future projects including her upcoming second studio album 'Joyride'.

Though Tinashe has made a strong foothold in music, her acting career isn't far behind. In fact, not many know that Tinashe first started out as a baby model and had a prominent acting career before turning to music, her first love. Tinashe had made her film debut in 2003 with 'Masked and Anonymous' as Mrs Brown's daughter. Three years prior to this, she had done a television film 'Cora Unashamed'

In the 2000s, she had done voice roles in several films and television series including 'The Polar Express' and 'Holly Hobbie and Friends' series as Carrie Baker. She even appeared in the 2006 American drama film 'Akeelah and the Bee'. From 2008 to 2009, Tinashe had a recurring role in the American sitcom 'Two and a Half Men' as Celeste.
Major Works
Though Tinashe's career launched in 2007, her biggest breakthrough came in with her debut single '2 On' as a solo artist. It reached number one on the Rhythmic airplay chart, and peaked at number 24 on the US Billboard Hot 100. The phenomenal success of her debut single led her to come up with her debut studio album 'Aquarius' in 2014 which was well received.
Awards & Achievements
Tinashe received the 2015 YouTube Music Awards in the category '50 Artists to Watch'. The same year, she received BMI R&B/Hip-Hop Awards for Most Performed R&B/Hip-Hop Songs for her single '2 On'.

In 2016, she won Ivor Novello Awards for Best Contemporary Song for 'All My Friends'.
Personal Life & Legacy
Tinashe puts up with her family in Los Angeles. She has a bedroom studio where she makes her music. Tinashe is a black belt in Taekwondo.

Not much is known about Tinashe's dating background.